One of my favorite jobs to do as a makeup artist is to work with a bride on her wedding day! I still remember my wedding day over 8 years ago, and wish I could re-live that moment at least once a week, because it was that much fun. And what girl doesn't love being the center of attention, wearing a gorgeous dress, and getting dolled up for at least one day of her life??
So since re-living my actual wedding day is not very realistic, being able to see my work in action on someone else's wedding day is really awesome! One of my dearest friends and talented photographer,
Abbey Lindsey of
Dylan Blue Photography
,
captured a few shots of me working with a bride this past weekend that she was kind enough to share with me. Kelli, you were an amazing person to work with and the coolest cucumber of a bride I think I've worked with in over 9 years!!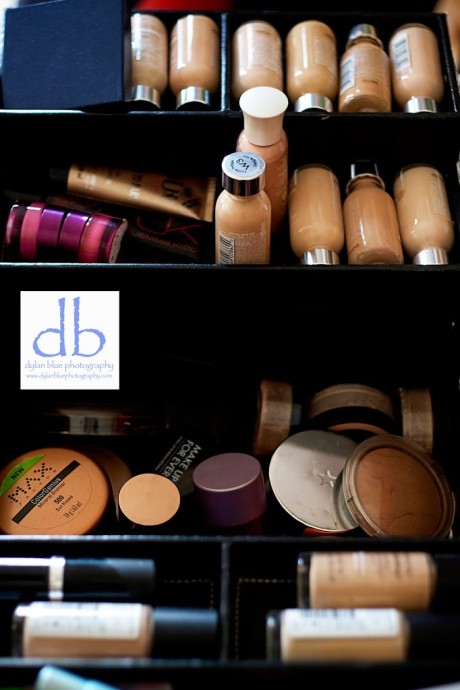 If you want to see even more fabulous photography from Abbey, click on her link above to see all the cool wedding details and more pics of Kelli. She even took some shots of my makeup tool kit. And who knew that mess could look so cool and artsy?!
 One of the biggest challenges of doing bridal makeup is to make sure that the real person shines through the makeup and it doesn't get so overdone that the groom doesn't recognize the bride walking down the aisle!
I like to keep the brides true beauty the focus and play up her favorite features of her face. In this case, Kelli's shockingly blue eyes were what we played up with champagne and warm golden browns.
Her hair, even though you can't see the complete finished product in this, was done by Andrea, owner of Mint Salon in Athens. This woman knows a thing or two about hair and if I could get married again, she'd be doing my updo for sure!!
 Thanks so much Abbey for sharing these pictures with me and to Kelli for allowing me to share in your special day. Hope you and your hubby live "happily ever after!"