Say "Hello!!" to the most recent Redbook Red Beauty Box.  It is time for an unboxing of the latest and greatest beauty products Redbook has discovered and they're just in time for fall! 
I am dubbing this Red Beauty Box the "Pamper Yourself" products. 
Mainly because we are starting to get into that hectic holiday season where we will all deserve a little rest and relaxation for ourselves!  And that relaxation usually comes in the form of beauty products for me.
Now for the good part.  In this beauty box I received… 
Big Sexy Hair Powder Play Lite Soft Volumizing & Texturizing Powder (seriously long name, but seriously gives mad hair volume!)
Mary Kay Clear Proof Deep Cleansing Charcoal Mask  (the smell makes you feel like you're at a day spa)
Curel Hydra Therapy Wet Skin Moisturizer (the best overall body moisturizer I've ever used, hands down)
Finishing Touch Flawless Hair Remover (not a glamorous topic, but man this thing works with ZERO pain!!)
MegRhythm Gentle Steam Eye mask (hello immediate relaxation for the tired eyes!)
Let's start with the top of our heads, with the hair product by Sexy Hair.
This powder has got the most unique formula in a hair product I think I have ever used!
It seriously dispenses like a mist of cloud-like powder that magically disappeared into my dark hair. It gave me some crazy good texture and "UMMPH!" at my roots like I've never experienced before.  And I have some heavy hair!  This stuff is going to be a staple in my haircare routine this fall.  Zero scent as well.
Now onto our faces with the Mary Kay Charcoal Mask. 
It's almost peppermint-y smell and cooling sensation when rubbed onto my face reminded me of getting an expensive facial at a day spa. 
Charcoal products are getting a lot of love lately from beauty brands.  It helps with pore clogging impurities to help generate clearer skin because charcoal acts like a magnet to unclog pores while also reducing shine.  It also contains honeysuckle and navy bean extract that are both shown to target skin discoloration issues over time.  Sounds like a winning skincare product combo right? This mask is a multi-tasker!
Sticking with the face but now moving onto my tired eyes with the MegRhythm steam eye mask.
Now unlike the previous cream mask, this one is an actual eye mask.  It comes available in 3 scents of lavender, citrus, and unscented.  I got the lavender one, which Yipee! because I love the smell of soothing lavender. 
It's really neat how when you take it out of the packaging, it immediately self heats.  This is one of those treatments that you just need to kick back and relax with your eyes closed for 10 minutes and actually take some time to rest (no multi-tasking!). I like using it right after I've washed my face at night and to hang out on the couch for a few minutes after I've put the kids to bed.
Onto the whole body experience after a good shower, is the Curel Hydra Therapy moisturizer.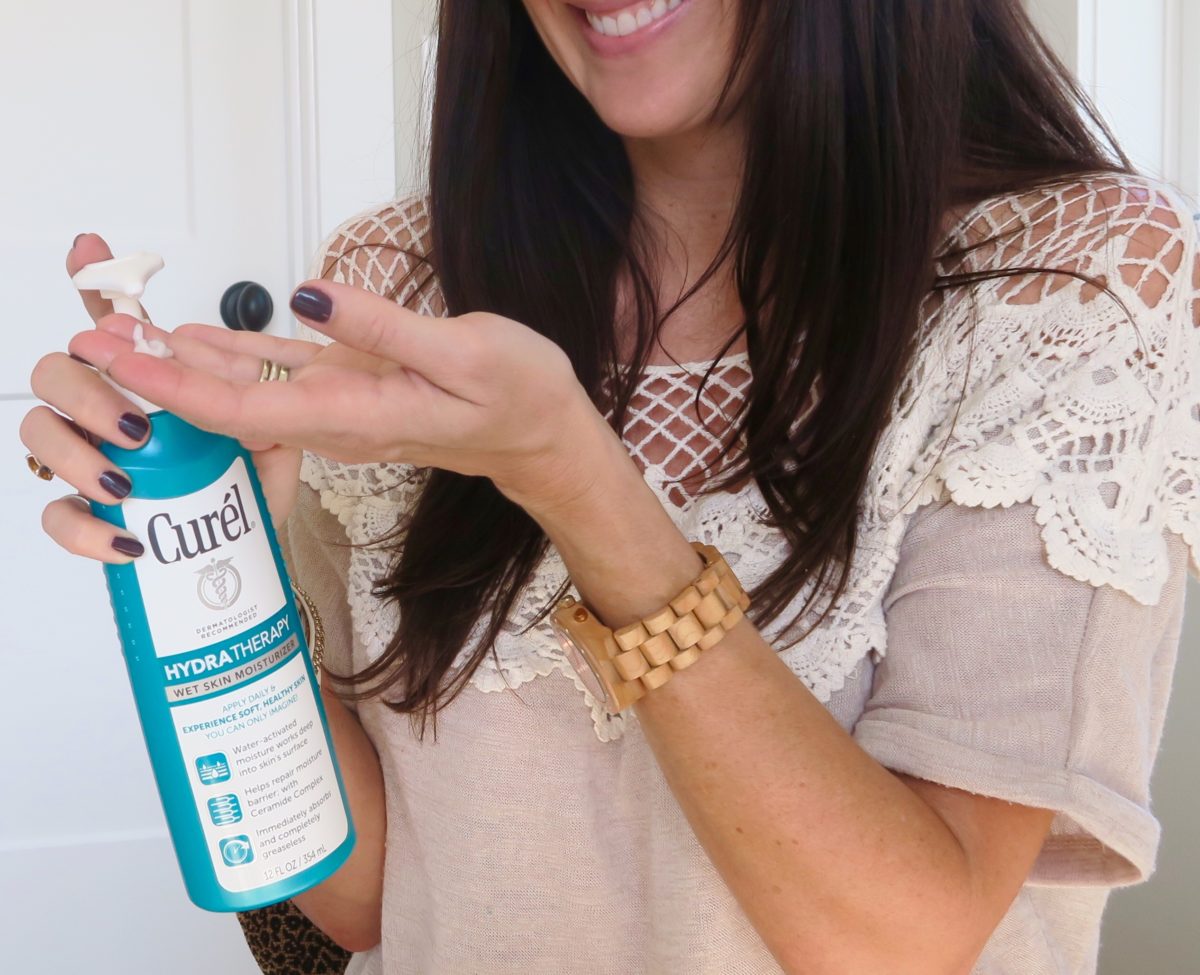 Now I have the driest body skin on the planet.  Nothing ever seems to work to conquer the alligator skin.  But this Curel moisturizer could be the answer to my prayers and came just in time for my fall and winter dry skin! 
It's hard to get excited about lotion, but this has me bouncing for joy.  Curel works best after showering because your pores are open which gives the product an immediate pathway to absorb it's moisture.  It is not heavy, sticky, and has no scent whatsoever (so it doesn't fight with your perfume), and literally feels satin like once applied.  
Last but not least, let's talk facial hair with the Finishing Touch Flawless hair remover wand.
I bet most people struggle with those annoying peachy fuzz facial hairs, but hate to admit it.
Well I'm admitting it and yes I have them.  I have not ever had the extra money to chunk down for permanent hair removal. Well, now I don't have to. This tool works like an absolute charm! I can't feel a thing when I run it over my upper lip but I can see it disappear immediately.  This might be my favorite product out of the whole box.  There's also a tiny built in light which helps you never miss a hair!!!
VERDICT on these Redbook Red beauty box products : I am completely digging the ENTIRE contents of this box! Usually in boxes like this there are one or two products that I'm kind of like, "ho hum" on but not this one.  They all perform just as described on their packaging and I found a need for every single one of them.  Bring on the holiday stress because I've got relaxation solutions in the bag!
Which one of these products do you think you'd be most excited about trying?
*Thank you to Redbook for sponsoring this post!! All opinions on these products I was sent are honest and my own, as well as photographs.*