A BIG part of my job as a makeup artist and a beauty blogger is to regularly test out products.
They can be ones that I get sent to by companies (such a nice perk, I'm very thankful for this) or that I just can't pass up while strolling the aisles of Ulta or Target.  (I typically find new makeup products to buy when I'm supposed to be buying more boring things like bananas and paper towels!!)
Opening up a new product and playing with it is one of my favorite things to do.  I'm constantly amazed by all of the inventive ways cosmetics companies dream up their products.  Isn't it amazing how one mascara or blush can be interpreted and created in SO many different ways!!
My "makeup find of the week" is Confidence In Your Glow , $32, sent to me c/o it Cosmetics a few weeks ago.  This is a product that is basically an ombre of highlighter, blush, and bronzer all in one!
BLUSH is something that I never ever leave the house without.  My complexion looks so dull and lifeless without it.
Then I would say BRONZER is my next biggie because a little bit of warmth to the skin gives an immediate healthy look.  Since it's summer and I'm trying not to get a real tan (because that's aging!) I need to add bronzer to fake that I've been at the pool everyday.
A HIGHLIGHTER  is used if I have a little bit of extra time and feeling extra special spunky!  I love the look of a highlighter but it sometimes gets left out due to time restraints!
So the great thing about this it Cosmetics product is that you don't have to make time for 3 separate products to do all of these steps in your makeup.  You just swipe your Heavenly Skin One Sweep Wonder Brush, $48,  all over the 3 shades to get your glow of color, bronzer, and highlighter!  The greatest thing about this luxurious brush?  It helps you to not get too heavy handed on this highly pigmented product.  It feels like you're literally rubbing silk bristles over your skin.
BONUS : I also applied all three colors on my eyelids as eyeshadow! In these photos I am wearing #1 in my tear ducts, and I blended #2 & #3 together and used it in my crease!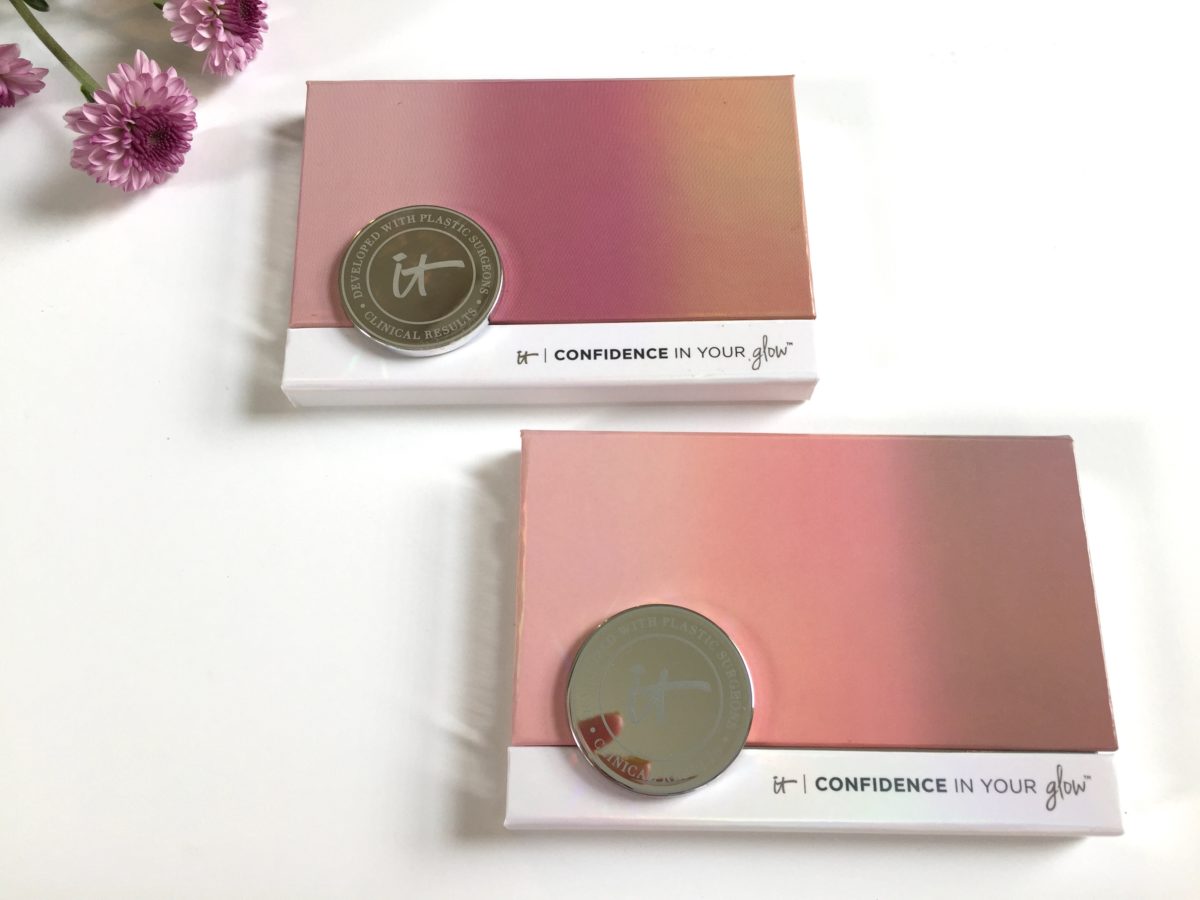 What I love about the it Cosmetics brand. Their products are developed along with plastic surgeons and most of the ingredients are very skin loving and always give a more youthful and airbrushed look.  This glow palette contains a vitamin C-infused brightening formula and is talc-free.  And it has the faintest fresh orange scent!
This product comes in 3 shades, Natural, Warm, and Nude Glow.
Shop the items :  Confidence In Your Glow   Price : $32.00   // Heavenly Skin One Sweep Wonder Price : $48