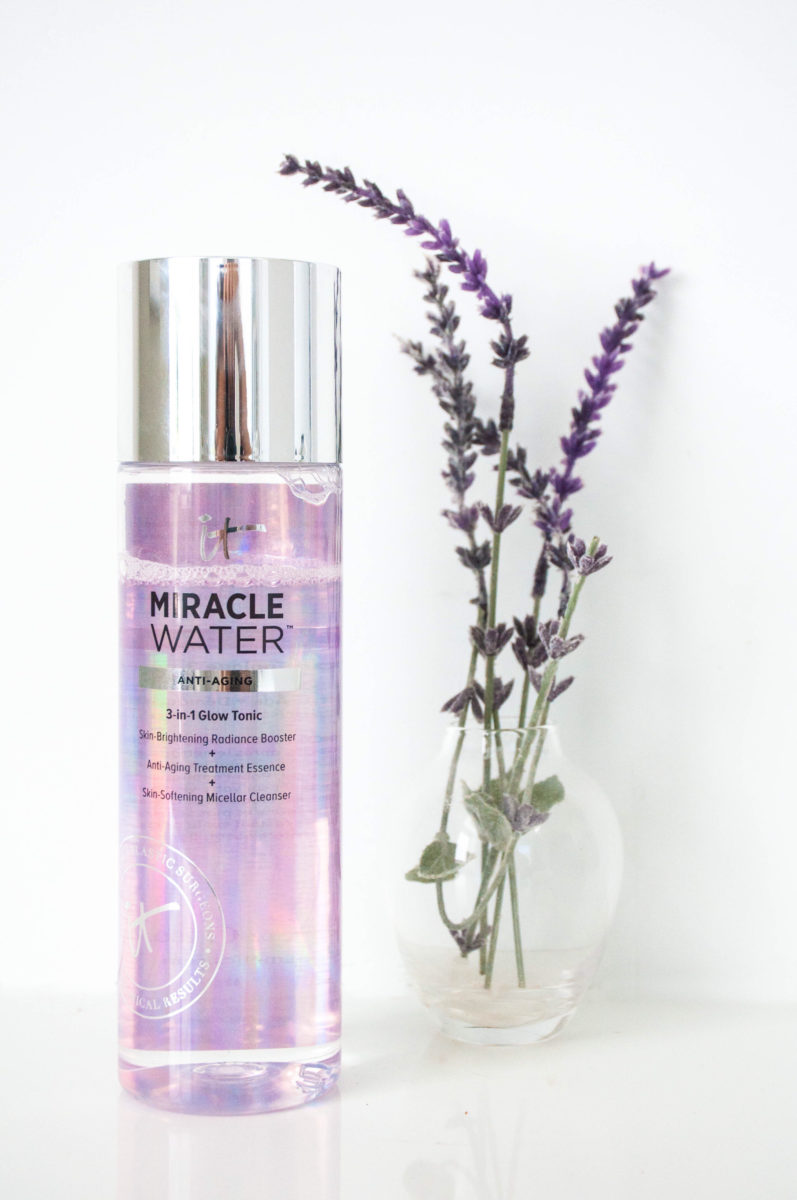 I LOVE finding ONE product that does MULTIPLE things in my skincare routine.
I mean, why would you carry around or bother buying/using a few products, when there's one single item that can offer the same functionality??  Unless you find opening and closing a lot of products and prolonging your nighttime prep before you can snuggle up in your bed to be a good time.
And I'd go so far as to say, "Ain't nobody got time for that!!"
So when it comes to my skincare routine, any thing or product that serves a dual purpose or more, is going to win my heart, my wallet, and a special spot on my bathroom counter.
Keep reading to see what this miracle product is, that gets 4.8 stars out of 5 and a 94% recommendation rate from reviewers on Sephora's website…
 Shop the products mentioned in this post here:

 it Cosmetics Miracle Water 3 in 1 Glow Tonic // Exfoliating Cotton Rounds : Target // Mint Sweatshirt : American Eagle (on sale now for $16!) // Tassel Earrings : Target  // Wrap Bracelet (actually a necklace I wrapped) : Stella & Dot // Mint Eyeshadow : Similar here and here // Lipgloss : NYX Butter Gloss "Eclair"
As a mom and woman in general, I'm a big fan of uncomplicated beauty and skincare routines. This is one of the best multi-taskers on the market right now in my opinion.
And to be completely clear, I was sent this product for free. I was not paid however to talk about it on my blog.  I don't talk about or even show 50% of the products I get sent by companies because most of the time, they're just not that great or worth sharing.
But this it Cosmetics Miracle Water 3 in 1 Glow Tonic is an exception.
Because it's TOTALLY worth talking about AND totally worth using every single day AND totally worth every penny.   It's $38 for 8.5 fluid ounces.  I've had mine for over 2 months now and it's only half way gone.  Pretty good in my opinion for the price when I buy my next bottle.
WHAT IT IS & WHO CAN USE IT :
Skin Brightener and Radiance booster
Anti-Aging Treatment Essence
Skin Softening Micellar Cleanser
All skin types can use this – from the driest of dry skin to the oil slick gals!
WHAT IT DOES : 
Can be used in place of OR used after cleansing because it is a micellar cleanser
Makeup remover (does not remove waterproof mascara I have found though)
Hydrates your skin (and yes, even oily skin types need to hydrate)
Helps your moisturizers and serums work better (use them AFTER you apply this)
Restores skin radiance by improving skin texture
Non irritating
Fights breakouts which in turn produces clearer skin
The description on Sephora says it "helps reduce the look of wrinkles," however, I wouldn't go that far, wink wink;)
HOW I USE IT :
I use these exfoliating cotton rounds to apply it with. They allow for a gentle but deeper clean because of the ridges and I squirt the tonic onto them then rub all over my face.
I only use this at night to cleanse, not in the morning because that seems repetitive. If you've already washed your face thoroughly at night, no need to in the morning because all you've done is sleep! As long as you're sleeping on a clean pillowcase there's no need 😉
Do NOT rinse with water afterward. You want all of its yummy goodness to stay on your skin and keep working!!
I apply my serums and heavier creams afterwards.
Like I said, this is not a sponsored (paid) post.  I am obsessed with this tonic and believe it is performing miracles on my skin tone and texture everyday!!  And it's eliminating the water and foam cleansers and toners I usually use! 
Would love to hear who else has tried this??  Let everyone else know in the comments below!