I did it. I gave into my lipstick FOMO.
I finally ordered one of the most popular, trendy, and talked about lipsticks on the planet…the Charlotte Tilbury "Pillow Talk" Matte Revolution lipstick.
It has been described on multiple beauty websites as…
A one-size-fits-all nude, with the perfect balance of beige and pink to flatter every skin tone of the color spectrum. (InStyle.com)
One coat enhances my natural lip color; two or three more, and I have a pink lip that's just shy of a berry tone. (Glamour.com)
One of the most popular nude lippies of all time, Pillow Talk has earned veritable icon status. (Allure.com)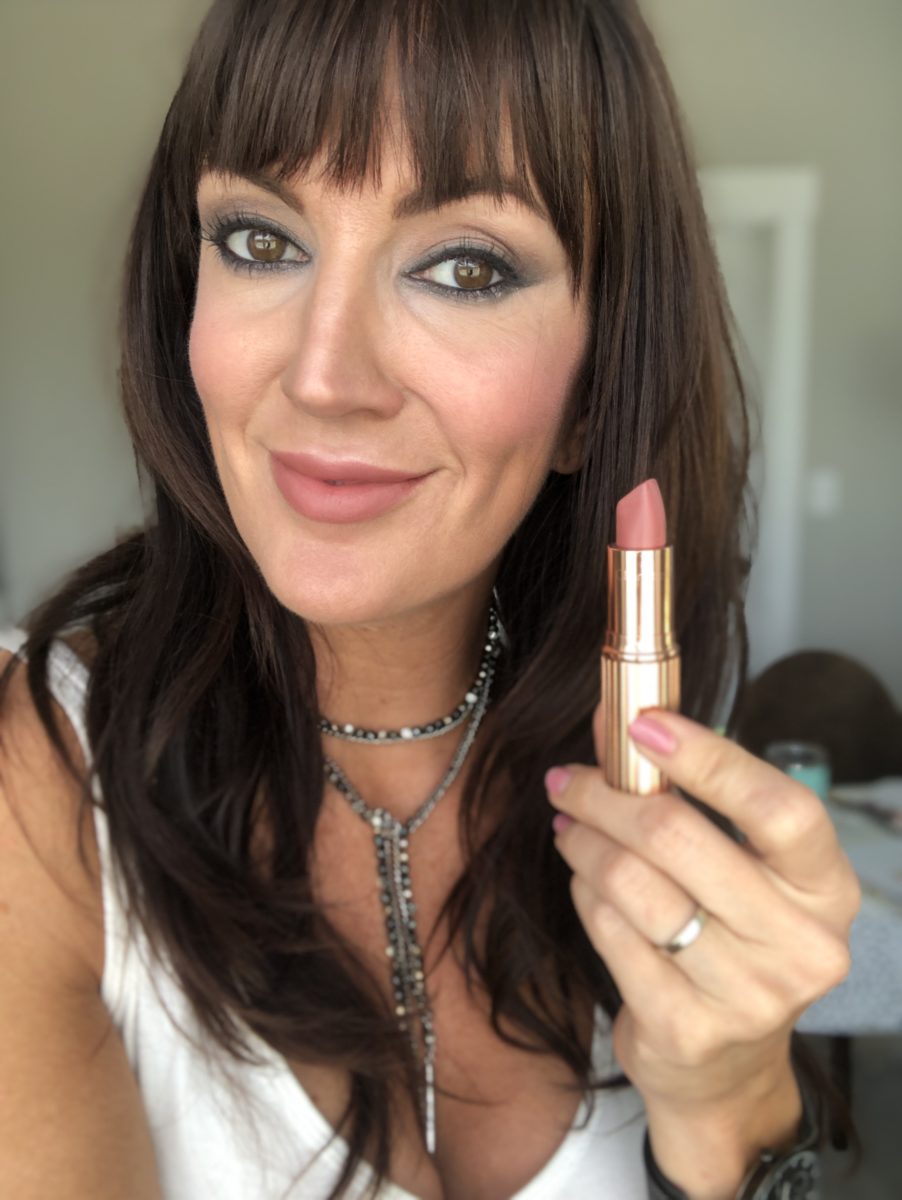 Overall, it's been described as a collaboration of the perfect nude with just the right hint of pink and brown. And what does EVERY gal need in her makeup bag besides her favorite mascara??  A go-to neutral lipstick shade that can go with ANY OUTFIT she throws on!
After seeing some popular celebrities wearing this shade from Nicole Kidman, Gwyneth Paltrow, Kylie Minogue, to Amal Clooney, I figured what not give it a whirl.
And I say these women specifically because they're all over 40, which I can appreciate.
Because lets be real. Most lipsticks look good on any random 20 year old starlet, but I want to see how makeup looks on women MY age! That's the real test of a timeless and universal makeup product to me.
I ordered this much hyped Pillow Talk lipstick that retails for $34 from my new fave beauty site, Beautylish, that has many boutique brands you can't find other places.  AND you get free shipping with only an order of $35 or more so, well that's a no brainer and I never order just ONE thing from a beauty website.
Here are my thoughts after wearing Pillow Talk for a couple weeks now…
Formula, feel, and finish. It's described as matte, but luckily, it's not SUPER matte in my opinion. I've worn some flat-matte-zero-sheen lipsticks before and this is not one of them. It's just matte enough without making my lips feel like sandpaper. It contains papaya and orchid, which honestly, I have no idea what how those ingredients benefit but they sound luxurious right?! The lip finish is very cashmere cream-ish like. Overall, it feels nice without being overly drying and it does not slide around my face.
Long Lasting? It is described as long lasting on the outside of the box. But I think that's a personal decision. I'd say it lasts longer than a lip gloss for sure, but I've worn longer lasting lipsticks before. The fact it's a matte finish helps with the longevity but when I've worn this throughout the day I probably feel the need to swipe more on at least 3 times a day.
Color.  IS IT THE PERFECT NUDE? I'd say yes, it's pretty darn close. It truly is a my lips but better type shade. It gives my lips a flush of warm pink but goes more neutral and brown as I layer throughout the day. It goes with everything and is an effortless shade to swipe on.
Packaging. It's rose gold case is a beauty and makes me feel fancy when I pull it out and put it on.
Price. At $34 that's about the amount I could buy two Old Navy tops for. But those tops I can't wear multiple days in a row like this lipstick!! I don't know how long it's going to last me but I do feel like its worth the price tag for something that is so universal and isn't a trendy or bold color  that one might not wear everyday. I don't own very many $$ lip products so I'm okay with paying for one that's now a staple makeup bag fave.
SHOP THE PRODUCTS MENTIONED :

Now I want to invest in Charlottle's Magic Cream, $64, that apparently is also becoming a cult classic for giving glowy and dewy luminous skin!!
Have you picked up the Charlotte Tilbury Pillow Talk lipstick yet? What did you think – best nude ever or not worth the hype?? 
P.S. With ANY matte lipstick, it's important to exfoliate your lips every night. Why? Because this ensures that they're nice n' smooth and hydrated before wearing a lipstick that could be a bit more drying and show flaky lips. I enjoy using this Fizz + Bubble Lip Scrub (comes in a bunch of yummy flavors) right after brushing my teeth at night, and then adding my Hyalogic HA lip balm on top.
P.S.S.! For my eyes in this post, I'm wearing the Urban Decay Naked 2 palette smokey eye with this lip look. It just got voted as best shadow palette by Allure Magazine Readers Choice Best of Beauty 2019.